About the band
Yid Vicious has been engaging and delighting audiences throughout the Midwest since 1995. The group has released four CDs and has received numerous Madison Area Music Awards for its unique blend of traditional and contemporary klezmer. In 2009, Yid Vicious became the first performing arts ensemble in Wisconsin to receive a USArtists International grant, to perform at Argentina's KlezFiesta, an international klezmer festival spanning three cities and including bands from ten countries. In 2006, Yid Vicious toured Chiba Prefecture, Japan as part of the Wisconsin-Chiba Sister State Goodwill Delegation. Yid Vicious is committed to keeping traditional klezmer music and dance alive, and collaborates frequently with internationally renowned klezmer dance instructor Steve Weintraub. The group has participated in the New York-based "KlezKamp: The Yiddish Folk Arts Program", and was a featured performer at the "KlezKamp Roadshow" directed by Yiddish scholar Henry Sapoznik at the University of Wisconsin in April 2009. Yid Vicious has presented concerts, workshops, and clinics at performing arts centers, cultural festivals, universities, and K-12 schools in Wisconsin, Minnesota, South Dakota, Iowa, Illinois, and Michigan, and has performed to statewide audiences on Wisconsin Public Radio and Wisconsin Public Television.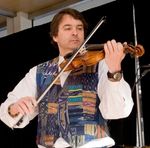 David was a Suzuki violin brat way back in the bad old days starting in Ann Arbor in 1968. After visiting Ireland in 1983 he changed his name to Daithi (pronounced Dahee) which is Irish for David and changed his violin into a fiddle. He has played Celtic music in Madison for about 19 years, first with The Drones, then Far From Home, next The Authorities, and now with The Currach (every Friday at the Brocach from 5:30-7pm). Daithi actually hates music, but he figures being in a band makes him look cool. When not playing music, Daithi plays at being an early childhood education advocate, marathon runner and all-around rabble rouser. His wife Sandy is a trapeze artist and carpenter. His older daughter Mairead is a stilt-walking fiddler. And younger daughter Fiona is an expert tree climber and violinist. Daithi's favorite Yid Vicious tune is "Sadegurer Husidl". Trivia tidbit: Matt and Daithi are the only original members of the band still hanging on...
A Madison native, Greg has engaged in an ever-widening variety of styles throughout his musical career. He presently performs on clarinet, saxophone, flute, penny whistle, and tupan (an ethnic drum) in a wide variety of musical organizations and styles including Yid Vicious, Madison Symphony Orchestra, Caravan (Gypsy swing), "Madison's Own" Capitol City Band, Intemperance Collective (old-school Balkan folk dance), and Forward! Marching Band, (Madison's activist street band). Greg also enjoys joining the pit orchestras of Broadway tours that visit Madison and local productions such Producers, Addams Family, Spamalot, Heathers: The Musical, Natasha, Pierre & the Great Comet of 1812, and A Christmas Carol. He joined Yid Vicious in 2002 to salve an inner need to play music in minor keys.
Kia Karlen - Horn & Accordion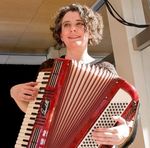 Born and raised in Madison, WI, Kia took over the Yid Vicious horn duties in 2002, and later tamed a feral accordion that Geoff captured in the wild. Currently holding the horn/accordion seat with Reptile Palace Orchestra, she has also performed with the Con Vivo Chamber Ensemble, Four Seasons Theatre, Capitol City Band and Madison Savoyards, and occasionally plays bass with local rock outfits including Yammer and the Theramones. With husband (& YV drummer) Geoff Brady, Kia has scored experimental music for silent film screenings, staged sock puppet tributes to the great philosophers, and organized armies of artists for temporary public art projects at Ride the Drive and Madison Museum of Contemporary Art. Kia works at the Madison Children's Museum, where she often figures out ways to do this sort of stuff for a steady salary.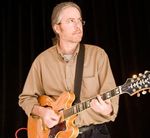 Matt was a founding member of Yid Vicious way back during the first Clinton administration. After heading to the twin cities for a time in the late 90's, he finally found his way back to us. When he's not creeping around the University of Wisconsin Mills Music Library looking for things to catalog, Matt can be seen with the band Shakey. He is also the personal manager of Alexei A. Schmirnov, bass player for Optometri.