We used to offer all of our recorded music for sale through an outfit called CDBaby, but they stopped doing that sort of stuff a while back. "Amaze", "Dollars", and "Schlemiel" are available digitally through Amazon. All three are on Spotify and iTunes, and "Klez Kez" is also on Spotify. "Klez Kez" is also available for sale hard copy and digitally through Uvulittle. We are looking into distribution for "Go to Sleep" and other options for our recordings. Stay tuned.
AMAZE at the Plant Hypnotist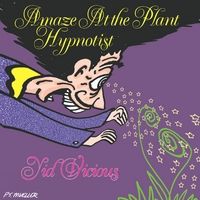 Giant Clam Records, 2012.
AMAZE at the Plant Hypnotist, Yid Vicious' 5th and newest CD, is the first recorded output from the band's "Kid Vicious" oeuvre. The collection of tunes for children and childish adults throws the beloved klezmer band into a blender with a carnival sideshow, a rusty circus calliope, and even a couple of monsters from under the bed. The result is sure to enliven any slumber party, Hanukkah feast, boat show, or clam bake.
Dollars to Doinas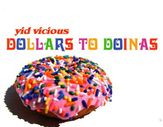 Giant Clam Records, 2008.
Review by Michael Popke, The Shepherd Express:
"A doughnut with pink frosting and colorful sprinkles on top graces the cover of Dollars for Doinas, the fourth CD from Madison's internationally renowned klezmer band Yid Vicious. It's a fun, deliciously appropriate image for a group that's helped keep Yiddish folk songs alive for almost 15 years. Few bands, regardless of genre, make music as celebratory as Yid Vicious. Indeed, these 14 songs-punctuated with fiddle, tuba, saxophone, French horn, clarinet, accordion, Theremin and guitar-may conjure carnivals, circuses and parades. But that's the point. Yid Vicious flavors Eastern European and Russian Jewish musical traditions with contemporary spices and serves it to the masses. "Serfing on the Dead Sea" rides a tidal wave of tuba, the dark classic-rock vibe of "Vicious Grrlz" ends with a horns-galore finale, "The Breathless Terk" flirts with free jazz and "21st Century Tangar" tones down the frenetic pace without diminishing the band's art of noise."
The Seventh Schlemiel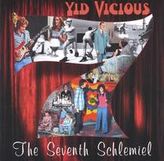 Giant Clam records, 2005
"...these talented youths incorporate their own generation's sounds into the mix, from country to reggae. Brainy and fun... this is music that thinks on its feet."
            - Review excerpt from jewishworldreview.com
"Klezmer acts on the coasts get far more play than Yid Vicious, but few can claim to have produced a collection this inventive, varied and vivacious."
            - Tom Laskin, Isthmus
Forverts!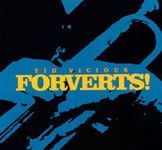 Knitting Factory Records, 2001
Klez, Kez, Goy Mit Fez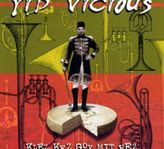 Uvulittle Records, 1998

For sale at Uvulittle   (Use a browser other than Firefox. Chrome works.)
Go to Sleep You Tiny Beast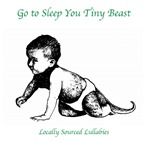 A multiple-band gift to our friends Maggie Weiser and Kenny Stevenson on the birth of their child.
Credits from the album cover:
1.  Climb Aboard this Lullaby - Jonathan Zarov
2.  Hobo Lullaby - Feenys and Friends
3.  Durme, Durme - Yid Vicious
4.  O My Stars - Art, & Stephanie Stevenson
5.  What Did I Come in Here For? - Biff Blumfumgagnge
6.  Lullaby Song - Rick Streed, Dar Ward & Chet Toni
7.  Rejects Robosto - Jim Goronson
8.  Bedtrip Lullaby - Irene's Garden
9.  Go to Sleep You Tiny Beast - Bob Jacobson
10. John O-Dreams - Yid Vicious
11. If I Were the Wind - Stephanie Stevenson
12. One, Two, Three - Andy Ewen
13. I'm Gonna Get Up - Seth Blair
14. Exit Sandman - Steve Burke
15. Baby Mine - Lisa Marine
16. Home on the Range - Mike Stevenson
17. I Wanna Be Sedated - Über Alice

With great love to our friends Maggie and Kenny, April 2015

Artwork by Bill Feeny. Graphic Design by Robin Kurzer.
Produced by Kia Karlen and Biff Blumfumgagnge
(The full list of everyone who performed on this album has gone missing. If you have it, please send it along.)